At Independent Construction & Remodel , we've seen awful kitchens and outdated spaces turn into cozy and comfortable cooking centers by our experienced kitchen remodeling contractor in Colorado Springs, CO. Independent Construction can take your kitchen space and turn it into everything you ever dreamed a kitchen could be.
Custom Kitchen Remodeling & Redesigns
The kitchen is the hub of activity in any home and is the place you go in the morning for a cup of coffee or a bowl of cereal. It's where you pack your lunches or cook your dinners. It's home to the fridge and cabinets that store those late-night snacks. It hosts activity all day long, but how well does it work for you?
Hiring a custom kitchen remodeling contractor in Colorado Springs, will allow you to include all the features and amenities you've always wanted in your kitchen area. Give your kitchen a makeover and add a new island with sink to chop veggies, or extend your countertops to give you more space for those everyday appliances. Tear out your cabinets and change the whole flow of your space, giving you more storage and a new layout that places your kitchen stove or other fixtures in areas that work better for your family and your cooking style.
Updating or Modernizing Your Kitchen
Is your kitchen in Colorado Springs starting to show signs of age? Are you stuck with small appliances or classic elements that seemed cute at first, but now are just inconvenient? Let our kitchen remodeling team get to work for you. Bring your kitchen space into the 21st century with updating and modernizing construction that can make your cooking area more convenient and comfortable. Whether you just want to implement a more contemporary design or redevelop your space into a tech-filled hub, we can handle modernizing your kitchen and making it work for you.
Kitchen Cabinets
Kitchen Floors
Countertops
Butcher Blocks
Stove
Range & Exhaust Hoods/Fans
Lighting & Electrical
Dining Areas
Backsplash
Kitchen Sinks
Kitchen Remodeling Pictures From Homes In Colorado Springs, CO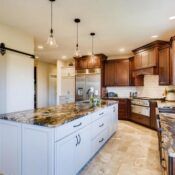 Get cooking on your kitchen remodeling by calling in the expert kitchen remodeling contractor in Colorado Springs. We've helped countless clients over the past three decades – so put us to work for you. Get started today by calling Independent Construction & Remodel at 719-650-1598.