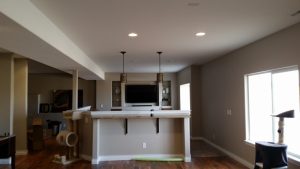 After we finally polish off our leftover Thanksgiving turkey and pumpkin pie, our thoughts turn to the next fast-approaching December holidays. The winter string of holidays creates the perfect platform for giving meaningful gifts and creating special moments for our friends and family.
With holiday guests staying in our homes, children expecting exciting and unique holiday gifts, and extra time off from work, this time of the year proves the perfect time to finish the one room in our home we often put off until last: the basement.
If you've ever thought about making your basement into a living space, the holidays are the time of year that make it clear how beneficial it would be to have the extra room to use while entertaining friends and family. Let's take a look at a few of the options for what you could do with your finished basement.
Guest Room
Seeking some extra space to accommodate holiday guests? Whether your children are returning home for the holidays from college and bringing their roommates along, or you plan to offer space for out-of-town family members, you probably need extra space for the additional people inhabiting your home.
Converting the basement space in your home into an extra guest room ensures the comfort of everyone staying with you this season and beyond. Add a bed and a dresser and revamp your basement to add some homey touches for your guests. Turning your basement into an additional guest room offers privacy and comfort for all during the holidays and can be a great extra space for any guests you host throughout the year.
Play Areas
Looking for a great gift idea for your children? Turn your basement into their personal play area! A finished basement can be the perfect space to keep your children's toys and crafts while allowing them to escape to their own toy land. Older children and parents, too, will appreciate the privacy a basement offers for having friends over, and younger children will enjoy the extra space to run around and have fun even when the weather outside is frightful.
A basement play area also provides a great space for larger toys and play sets that may not have another place in the house. Set up some storage bins for easy toy organization and add a TV so your kids can watch their favorite cartoons and movies or play their video games.
Mancave
Ah, the mysterious mancave. The very word evokes majestic visions of a private man-centered space filled with the best sports memorabilia, a large screen TV, a pool table and a personal refrigerator stocked with ice-cold beer.
Make this your reality and rework your unfinished basement into the ultimate mancave! Whether this is a gift for yourself or the man in your life, the mancave is the ultimate gift for sports lovers and men everywhere. Guy friends will flock to your newly refinished basement, giving them the gift of an awesome space to relax and hang out. You work hard, too, so why not relax in ultimate comfort and convenience with a new space in your home built to cater to you and your interests?
Hobby Room
Turn your basement into a fitness room by adding top-notch cardio machines and weights. Add a hardwood floor and mirrors to your basement to create your own private dance or yoga studio. If you love arts and crafts, why not use the space as a sewing studio or crafting corner? Do video games take up a lot of your family's time? Transform the basement into an epic video gaming area.
Transforming your basement space into a purpose-made space for you and your family's treasured hobbies gives you a great escape from reality and allows you to spend some time having fun doing your favorite things without leaving home.
Do none of these ideas strike your fancy? There's no limit to what you can do with your basement space. Whether you want to add living space by creating a second living room, design a dedicated a home theater or set up a fun-filled game room, we can help you make your finished basement into the exact space you want it to be.
Need some help finishing and remodeling your space? Independent Construction & Remodel offers comprehensive basement finishing and design services to take it from a dingy, dark space and make it into a functional, family-favorite area of the home. Take a look at some of our previous work online now or call us today at 719-650-1598 to schedule a consultation today.